Everytime I get invited to events (blog/press events), I always bring my Mom with me. She's very supportive and no matter how long the event would take, she patiently waits for me. If there's one thing special that I should feature in my blog and write about, that would be my Mom. Hi Ma, it's your time to shine. Haha!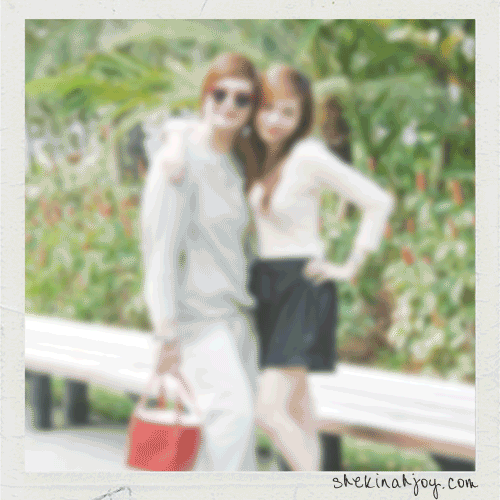 Styled my Mom with M

&

S
When I saw the "Style your Mom with M&S" challenge, I immediately raid my Mom's closet and look for pieces that I can use. 
I'm so excited because it's my first time to blog about my Mom and style her outfit. Excitement Level: Infinite. So without further ado, here's my My Gorgeous Super all-in-one Mom (a.k.a my chef, financial advisor, doctor, nurse, mentor, stylist and everything in between) OOTDs featuring M&S clothes and shoes:
Styled my Mom with
M
&
S
Look #1
I've always adored Whitney Port's outfits especially when she's wearing wide-leg pants that's why I decided to make her a style inspiration for Look#1. Whitney wore a  multi-colored sweater and cream wide leg pants. My Mom's M&S wide leg pants is perfect for this style inspiration. So I paired her pants with a knitted top accentuated with bold accessories with a touch of gold and red (sunnies, shoes, and bag) to make it more elegant.
Outfit Details
Styled my Mom with 
M
&
S
Look #2
My style inspiration for Look#1 is Melanie Griffith's outfit. She paired a plain long-sleeve top along with her wide-leg floral trousers. As for me Mom, I also paired her wide-leg floral trousers with a plain red shirt from M&S. Flower Power! I also added some accessories to achieve a boho-summer look.  
Outfit Details
Styled my Mom with 
M
&
S
Look #3
Look #3 Style inspiration is Robin Wright. You can't go wrong with a classic black dress and as Karl Lagerfeld would say it, "One is never over-dressed or underdressed with a Little Black Dress." I paired my Mom's black dress with M&S black wedge + White Pearls and Gold Accessories.
Outfit Details
What do you think?
Marks & Spencer is indeed a haven for anything that brings comfort, glamour, style and sophistication. 
No wonder why they're one of the most trusted designer brands with a good reputation in fashion industry. I'm pretty sure you don't wanna miss any of their promos and new products, so don't forget to visit their website www.marksandspencer.com and to follow them on their social media accounts such as
facebook: Marks and Spencer Philippines,
twitter: @MarksSpencerPH and
instagram: @MarkSpencerPH.
---
Behind the scenes photos c/o of my supportive aunt.
 Hi Tita Lenny! Thank you! While taking ootd shots of my Mom, my aunt took photos of us too. I will never forget this one because it gave me wonderful moments to remember with my Mom. It's priceless. Thank you M&S! 
Dear Ma,
Thank you for having a long patience and understanding despite of my repulsive mood swings and crazy decisions. Sorry for all the times that I've hurt you. Sorry Ma!
I want you to know that you're the most influential person in my life and I appreciate all the sacrifices you made to raise me. Thank you for everything that you have done for me, and all that you are still doing. Thank you for believing in me and for making me realize my worth as a person. Thank you for always reminding me that I should not settle for less than God's best. You deserve the best too! I'm proud to say that everything good about me, came from you (including physical features – pulchritudinous
HAHA). I hope that one day, I can be a reflection of you because I believe that if I can be half the mother that you are, I will consider myself Blessed and Motherhood a success. I love you so much Ma!
Your mermaid daughter,
S.
To all the Wonderful Moms, Happy Mother's Day! You all deserve the best things in life.
Don't forget to greet your Mom and tell her "I love you" this Mother's Day.
To wrap it up, here's a short video for you Ma. Happy Mother's Day! I love you!
"She speaks with wisdom, and faithful instruction is on her tongue. She watches over the affairs of her household and does not eat the bread of idleness. Her children arise and call her blessed; her husband also, and he praises her: Many woman do noble things, but you surpass them all." Charm is deceptive , and beauty is fleeting; but a woman who fears the Lord is to be praised. Give her the reward she has earned, and let her works bring her praise at the city gate." – Proverbs 31:26-31
---
Follow-up: Click here to read our message for you!